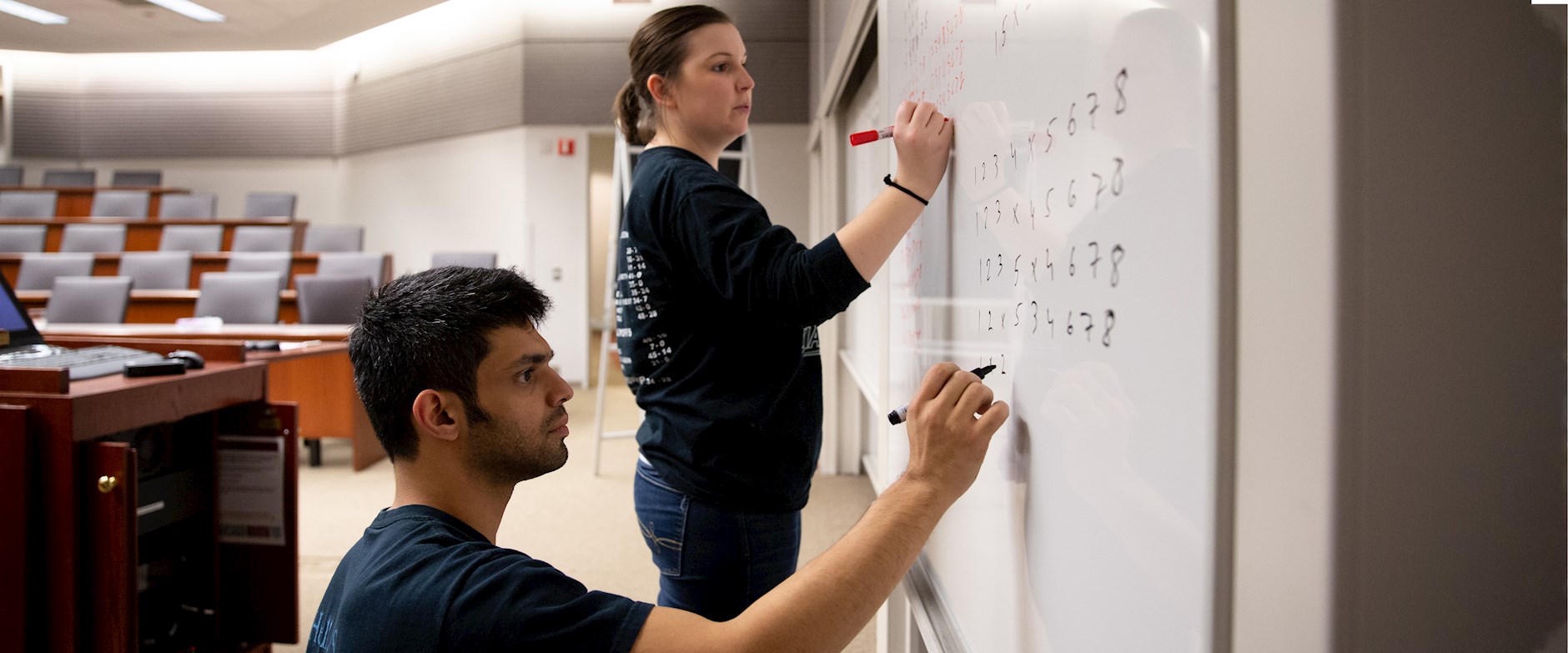 Our Collaborative Community
At Booth, ideas compete, and people collaborate.
The Booth community has a special combination of collaboration and competition. Our diverse culture celebrates curiosity, encourages asking questions and challenging ideas, and fosters critical thinking. Yet the atmosphere is inspiring, positive, and constructive.

At Booth, you discover students, faculty, staff, and alumni who are passionately invested in each other's success. They will help broaden your thinking, help you see the world in new ways, help enrich and improve your ideas. No matter your program of choice, you'll learn alongside high-achieving peers who inspire you to move beyond your comfort zone to take risks, challenge yourself, and become a more self-aware, self-assured leader.
You'll develop friends for a lifetime and a lifelong global network committed to helping you rise.
Community Support by the Numbers
130+
Alumni who return to campus to share advice with incoming students during annual Booth 20/20 events
120+
Number of student groups across all programs
50%
Percentage of alumni who have at least once recommended Chicago Booth students or alumni for a position at their company in the last 12 months
"When people think of Chicago Booth, they'll often think first about a heavily academic, robust curriculum. While that's absolutely true, Booth is also just genuinely a fun experience. People there are super outgoing, and it's such a diverse class. You will meet someone you connect with strongly."
— Gilad Andorn, '18
An Inquisitive Spirit
If there is one defining characteristic of the Booth community, it is curiosity. Curiosity to explore new ideas, discover new capabilities, and meet new people with diverse perspectives. The Booth community teems with opportunities to explore: in the study groups with fellow students that form a vital aspect of a Booth education; at speaking engagements where alumni and other business leaders share their wisdom and insights; in the numerous affinity and extracurricular groups covering a vast array of interests; and in countless dinners, nights out, coffee conversations, and day-to-day moments with your classmates.
At Booth, we welcome and support a community of diverse backgrounds, multiple perspectives, and an international scope.
Explore Our Dynamic Student Experience
Learn. Laugh. Connect. Discover the myriad opportunities around Booth to learn more about yourself, your fellow students, your community, and your world.
Join a community of peers and faculty who will cheer you on and challenge you to be your best.
In our collaborative community, you'll expand your network, get involved, learn to lead, and put your best ideas into action.
As an Executive MBA student, you'll build a lifelong network of peers and the confidence to take your career to the next level.
"This is not an environment where you're fighting to survive because it is so competitive. It's also not an environment that's so collaborative that you don't question the judgment of others. It's an environment that does an excellent job of balancing both."
— Ashwin Avasarala, '18
Stories from Our Community
Booth Gets Social
Get a window into the world of Booth, day to day, around the world, on our social media channels.
Choose Your Path to Success
Tell us about yourself, and we will show you the value of a Booth education.
Explore Our Programs
Ready to join a collaborative community that challenges you to ask questions, take risks, and see the world in new ways? Earn a business degree from our top-ranked Full-Time, Part-Time, and Executive MBA Programs, or a doctorate in business from the world's leading PhD Program in business. Or enhance your career by enrolling in one of our Executive Education courses.
Achieve more with an MBA degree from Chicago Booth. Offered in four formats—including Executive MBA programs based in Chicago, London, and Hong Kong—to suit your personal and professional goals.
Explore your research interests and earn a PhD from one of the best business PhD programs in the world.
Choose from nearly 50 open-enrollment programs worldwide, or create a custom program tailored to meet your organization's unique challenges.
Engage Further in Why Booth
The Executive MBA Program is registered under the Hong Kong Education Bureau. Registration No.: 262427. It is a matter of discretion for individual employers to recognise any qualification to which this course may lead.